1) Michael Jackson is still alive, just like Elvis
There have been rumours galore that the King of Pop (just like The King) faked his own death to escape the pressures of fame.
Some say he's living in an underground bunker with Elvis, one crazy fan says she saw him flying by jet-pack to LA airport, while a cleaner at the hospital where he died claims he saw MJ running out the back door disguised as a nun just minutes after he was declared dead.
2) Can you see Michael Jackson in this tree stump?
Like the Sydney fence post that resembled the Virgin Mary and the corn chip that looked like Elvis, locals claim the tree stump carries a special message of hope from the King of Pop. Felix Garcia's suburban front yard became a small scale Mecca for MJ fans wanting to witness the "miracle" of a tree stump which bore a likeness to the late Michael Jackson. We honestly can't see it. Can you?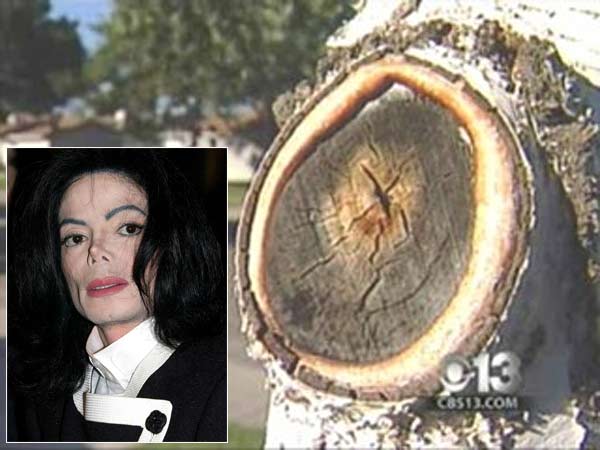 3) Doctor claims "I am the father."
Michael Jackson's dermatologist is reportedly planning to fight for guardianship of the late singer's two older children, who he claims are biologically his.
Arnold Klein had previously admitted to donating sperm to Michael, and now he is allegedly claiming to be the father of Prince Michael, 12, and Paris 11.
A source told the Sunday Mirror: "Arnie is planning to fight for custody of Prince Michael and Paris. He says he can prove he is their father with Debbie." (Michael's ex-wife Debbie Rowe worked as Klein's nurse).
The newspaper's source claims Michael chose Klein to father his children because he wanted them to inherit the doctor's high level of intelligence and a photographic memory which allowed him to ace exams without studying.
The source continued: "Arnie has told his close friends he is Prince Michael and Paris's father for years, while never giving a straight answer in public. He says he was paid nothing for the sperm but was paid for keeping the information confidential.
"The kids have grown up with 'Uncle Arnie' visiting the house and spending holidays with them."
4) Oliver Twist fathered Michael Jackson's daughter?
Former child star Mark Lester has come forward claiming he is the father of Michael Jackson's daughter Paris.
The 51-year-old, who starred in the 1968 film Oliver, told News of The World, "I gave Michael my sperm so that he could have kids — and I believe Paris is my daughter."
Mark is the godfather of all three Jackson children but he says he's been unable to contact them since their father's memorial and he believes their relatives are preventing them from speaking to him.
The actor, who has three daughters of his own, says he donated sperm to Michael in 1996. "It was a gift to him, no money was paid, it was something I was honoured to do. He wanted children so badly."
He says 11-year-old Paris bears a striking resemblance to his own daughters and he has called for a DNA test to prove she is biologically his.
Mark says his reason for revealing the long-time secret is because he has "concerns about the welfare and upbringing of the children".
"There's a contact issue," he added. "I dearly want to remain in contact with those kids and I feel now this is the only way that I can ensure that."
5)Winehouse visited by Jackson's "ghost".
Amy Winehouse reckons Michael Jackson has given her some life changing advice from beyond the grave.
The British musician has been struggling with a drug addiction for years, and she says the ghost of Michael Jackson recently paid her a visit to tell her to straighten out. Hmm, don't suppose she was ON drugs when that supernatural visit occurred?
Wino was a big fan of Michael's and is also a strong believer in the afterlife — she often consults with spirit mediums in St Lucia, her part-time Caribbean home.
A friend tells British mag The People, "She heard Michael's voice telling her if she didn't sort herself out she'd lose everything."